The hotel located directly next to the slopes
SKIING HOLIDAY OF SNOW PARADIES OF OBERTAUERN
It all started in the early 90ies. The "Sektion" Vindobona from the ÖTK (Austrian tourism club) started to build the Vindobonahaus in 1993 and finished it in 1994 as the 5th house in Obertauern.
Back then the Vindobonahaus used to be a shelter-hut for lost skiers and everyone that was looking for accommodation and a warm spot to sleep.
In 1965 they added another building to the house to get more space for everyone. 40 years later the house got a complete reconstruction and a face lift.
At Vindobonahaus everyone is welcome to feel at home and we are trying our best to give you the feeling of being home.
Thankfully we welcome a huge range of different guests, from families with their children, school-groups, ski courses, ÖTK-club-members and excursions, Party-people and even people who don't go skiing, everyone is welcome at the house.
The location of the house is perfect for everyone, ski-beginners are in walking distance of every ski-school in Obertauern, you can reach the slope right across our parking lot, every night-life location is in 3 minutes walking distance and the store where you can buy almost everything you need or forgot to bring is in 4 minutes walking distance. From our dinning area we have an overwhelming view at the mountains and peaks and can even watch your kids while skiing at Edelweiss Bahn.
Other than skiing Obertauern offers a lot of other out-door activities like cross-country-skiing, toboggan, going for a nice walk on the winter-wonderland-trail (no cars), ski-tours with a guide or just sitting in the sun and enjoying a coffee at one of the restaurants or coffee-houses.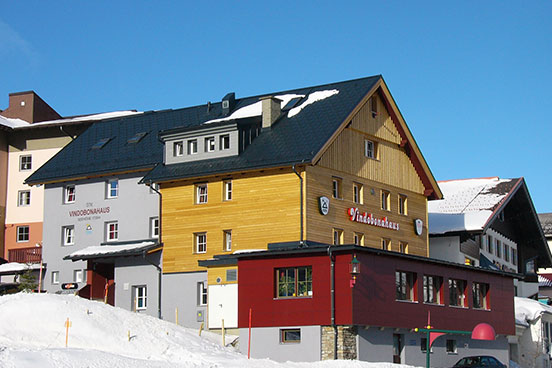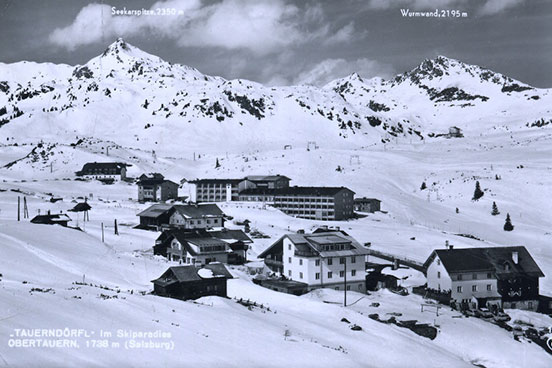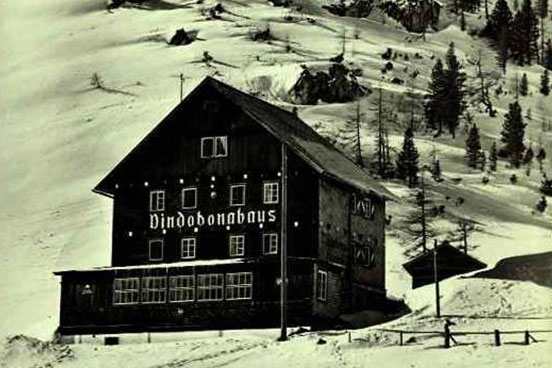 The rooms:
The Vindobonahaus brings you back to the roots!
23 rooms with 72 beds are awaiting you. The rooms are practically equipped with closets and comfortable bunkbeds. We also have 4 double bed rooms equipped with a TV, two of them are with their own bathroom. All the other rooms have shared bathrooms in the hallway. Most of our rooms are 3, -4, and-5,  bed rooms.
Please ask us for the rooms with their own bath. Also, we equip all rooms with bed linens and hand towels, shower towels we ask you kindly to bring yourself expect from the rooms with their own bath.
Food:
We offer half board or breakfast only.
For half board we serve you typical Austrian cousin but also international specialties.
Breakfast comes in a buffet and we serve you coffee, tea or chocolate milk to your table.
Breakfast is daily from 8 am until 10 am.
Our 4-course dinner we serve you between 6 pm and 8 pm.
What can you expect for dinner?
We usually serve a warm soup as entrance, there is a daily salad-buffet with at least 6 different salads for your choice. The main dish you can choose every morning from 3 different ones, there is always a vegetarian alternative for you. After the main course there is a sweet dessert waiting for you.
Our Restaurants daily opening hours:
In the mornings from 8 am until 1:30 pm and from 4 pm until midnight.
If there is a snowstorm or you are at the house with little kids, just ask us in the morning, somedays we don't close during the afternoon, so you can enjoy a hot chocolate or a cold beer while the kids can play.
Extra information:
Our own parking spots are in front of the house (1 spot per room)
Free Wifi in the restaurant
Skiroom with a separate room with ski-boots heating, preparation room
We take cash or debit cards, you can also transfer the bill to our bank account. No credit cards!
Front-desk opening hours:
Check-in days: 8 am until 8 pm
Other days:        8:30 am until noon & 4 pm until 7 pm